Whether you're a marketer or a lead strategist, creating a successful content marketing campaign is quintessential in the B2B landscape. Observing the ongoing trend, about 66% of B2B marketers have decided to raise their content marketing budget.
In a nutshell, content marketing is one of the most crucial business strategies. However, you can create a successful campaign only when you have the content formats right.
According to the Content Marketing Institute, the most used content formats by B2B marketers include:
 

Emails

 

Blogs

 

In-person events

 

Social media posts

 

Virtual events (webinars and webcasts)
Other common content formats include images, videos, infographics, and podcasts. So, which type of content is the best for you?
This post will mention the top 13 content formats and tips to pick the best ones for your business!
But First, Your Target Audience
Why to contemplate so much over the content format, you may wonder. Well, picking the right content format will help you provide relevant content to your target audience.
Your content marketing strategy will be successful only when you understand who the content is for. Here's how!
     

Who is your audience?: Think about the demographics like age, gender, and profession.

     

Which platform do they use?: Assess the most used platforms like social media or blog sites.

     

What content do they like?: Consider the type of content they prefer, like short-form content, images, videos, or long-form content.
Evaluating these aspects will help you create a reader's persona. Once you have a clear picture of your audience, you can pick the most suitable content.
Note: There's no one-size-fits-all content format or a set rule for content creation. It varies according to the content type and audience.
Content Formats for A Website
1.
Blogs
Blog posts are among the most common content formats in the B2B market. However, you must consider multiple factors while planning blog posts for your website. These include the length, type (how-tos, reviews, listicles, etc.), heading, and structuring, among others.
According to Semrush, blogs of 7000+ words gain 4x more traffic than the other average blogs.
Blogs can help you earn backlinks, build your name in the niche, and produce other content formats by repurposing content.
Look at how Salesforce ranks among the top platforms in the CRM industry with its authoritative content.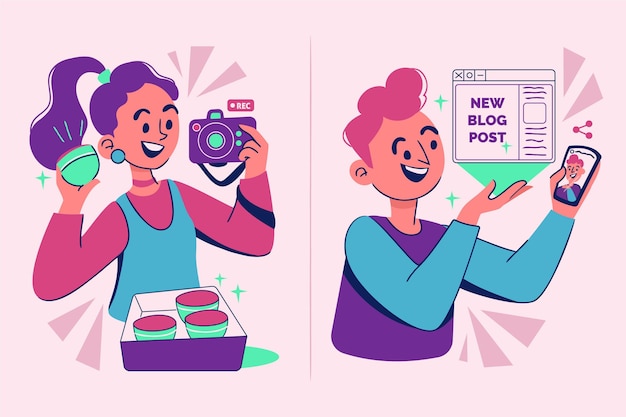 Image source: freepik
2.
Articles
While it's similar to blog posts, articles are relatively more informative, providing factual information.
Companies like Moz create comprehensive guides that rank for years to come. These provide profound knowledge about specific topics, creating evergreen content.
Look for the questions your audience may have and create a long-form article to answer all their queries. It will earn you leads and organic traffic for years to come.
3.
Ebooks
Ebooks are your one-stop solutions to earning leads. These are legit lead magnets that can help gather your audience's contact details and even subscriptions.
The Manager's Guide to Effective Feedback by Impraise follows all the rules for gaining clicks.
It focuses on solving the customer's problem. Besides, its landing page gives a clear description of the eBook, what you'll learn, and a simple CTA – the form.
4.
White papers
The white paper is the best content format to display your brand authority in a niche. Follow a specific structure highlighting the problem and then providing the solution while shedding light on the benefits of your product or service.
The primary aim of white papers is to help the audience. As per a poll by Forbes, 79% of B2B buyers share a well-written white paper with their friends and colleagues.
Creating the Foundation for Digital Transformation – a joint white paper by Hewlett Packard and Red Tape is an outstanding example. It states how their unison of consultation and migration fosters digital transformation.
5.
Case studies
Case studies are proof that your solutions are legitimate. They show the world how you've successfully helped different companies in the B2B market.
Besides, it helps you create niche-specific content, building brand authority in the industry.
With this case study, Sprinkler sets an excellent example of repurposing content. The CMX company converted a flat PDF to an interesting slide presentation for LinkedIn's SlideShare.
Did you like the idea? Use free templates to do a content audit and repurpose content now!
6.
Infographics
Infographics bring the perfect blend of visual appeal and factual data to the table. As a result, this content format is among the most shared formats on the internet.
Plus, it effortlessly eliminates the 'boring' factor from B2B content. A win-win situation, isn't it?
The B2B Social Marketing Universe is a perfect example of an interactive infographic that can earn hundreds of backlinks easily.
Content Formats for Social Media
7.
Videos – long and short
With the demand for visual content rising, videos make for the top content formats loved by business executives and consumers alike.
It helps spread brand awareness, boosts sales, and increases conversion rates. You can create advertisements, behind-the-scenes videos, explainer videos, or directly market the product.
When Slack approached Sandwich Video Inc. to create an advertising video, they refused. Six months later, they were using it, and eight months later, they filmed a case study video for Slack.
That's the power of video content format.
8.
Images
Over 46,000 Instagram posts are uploaded in one internet minute. That's the magic created when visual content meets social media.
So, how do you stand out from the crowd?
Use memes, quotes, short animations, and customized GIFs. Such content can help convey your brand message in an effortlessly engaging manner.
Check out how Cred uses memes to convey its message and connect with the audience.
9.
LIVE
Live video content like tutorials, product unpacking videos, and interviews are ideal for interacting with the audience. It helps you build a closer relationship and gives your customers what they want the most – content that grabs eyeballs.
Check out how Vogue created a Q&A video with Michael B Jordan to promote engagement. Moreover, spontaneous answers in a natural environment help portray honest content.
It is an excellent way to spread brand awareness. Just make sure your audience is well aware of the live event!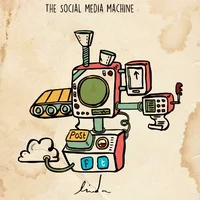 Image source: Giphy
Other Content Formats
10.
Slide Presentations
Do you already have business presentations ready? Well, why not use it to promote your brand online!
With visual content, stats, and small text blocks, presentations help convey your message in an engaging manner.
Snapchat grabs attention with its cover slide, followed by other slides packed with statistics you cannot oversee.
That's how presentations help generate traffic and gain engagement. You can also share such slide presentations on LinkedIn in the form of carousels.
11.
Podcasts
The number of Americans aware of podcasting has jumped from around 75% to 78% within 2021 itself. And the trend is on the rise.
Podcasts help you make your content easy for the audience to consume. They can listen to it while working out, traveling to work, or even during a night walk. Besides, apps like Spotify make publicizing your podcasts easier than ever.
The B2B Growth podcast by Sweet Fish Media is brimming with value for the B2B market.
Tip: You can easily repurpose your blog, presentations, and videos into podcasts!
12.
Email Newsletters
Did you know email newsletters are among the top-rated content formats to generate ROI? Yes, you can easily create them by repurposing content, but that's not it.
About 81% of B2B marketers agree that email newsletters are their most-used content marketing formats. Why so? They have a better open rate, foster content distribution, and help nurture leads.
The first newsletter by HOH – Where Water Works, includes animations, photography, a letter from the CEO, and an absolutely fantastic design. It checks all the boxes of appealing, valuable, and engaging content.
13.
Webinars
Do you think webinars are boring events that do not get traction? Well, you can make about $11,286 from one webinar. At least that's what Scott Britton earned with his webinar for a Udemy course.
Webinars can include anything from discussing your latest product or service to case studies, Q&As, and how-to series.
In a nutshell, a webinar is a perfect content format for repurposing content and promoting it to a live audience.
Choosing one content format is not enough. You must pick a handful to create a content marketing strategy that converts.
The best part is, repurposing content can help you create an entire content system with ease.
Create a blog, and you can convert it into an infographic, presentation, podcast, webinar, newsletter, image, video, and even go live. The possibilities are endless!
That's the power of leveraging a single content piece through repurposing.
So what's the hold? Study your target audience, the platforms they use, and the kind of content they consume. Voila! You have everything you need to pick content formats and create a successful content marketing strategy!